Precision GAGAN enabled GNSS Handheld
Built rugged, Dustproof, Waterproof, and Shockproof handheld field computer with precision GNSS systems integrated with it, provides the power of computing in the field, where the action is happening.
It has a high speed processor, higher memories, and a large screen for graphical presentation of the locations of points of interests on a map. The device combines the functionalities of a Smartphone and the power of a Laptop on the field itself. Providing photo capture, a high yield GNSS receiver, and integrated GPRS and cellular modem and voice call capability options, the SXtreo T51B handheld is the perfect solution to increase the productivity and communication capabilities of your field workforce.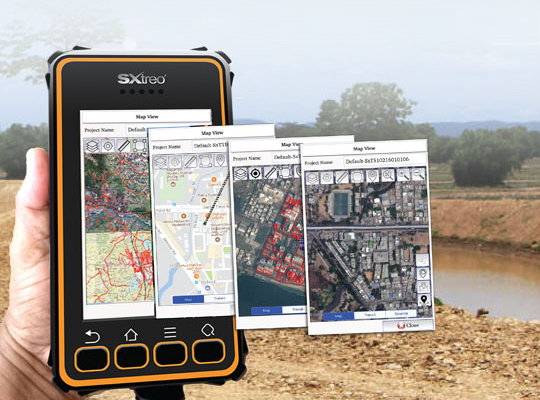 Features:
Rugged design to withstand dust, water, tumble, and accidental fall
Precise GPS through Multi-GNSS and GAGAN correction
Ease of use with intuitive mobile GIS application SXgeo
Real-time 1-3 m accuracy
Centimeter-level accuracy after post-processing
Geo-tagged photo capture
Pendrive ready USB 2.0 port
Long battery life with 8000 mAh battery
Large 5 inch screen for mapping and GIS data acquisition
Easily Import & Export your KML, Shape files, Raster images and in all popular vector and raster formats
One-Click data capture, waypoints, tracks
Sophisticated Data Dictionary
Made In India