Visibility

Traceability

Control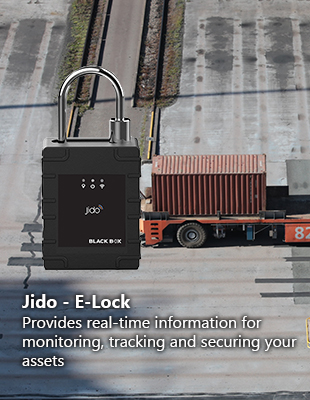 Secured and Safe Logistics with Jido E-Lock
Loss due to theft and pilferage are common in transit. Cargo is vulnerable to theft, particularly during its transportation. The problem is persistent in many regions and has been on a rise since last few years. Every year, the companies have to bear huge losses due to cargo theft incidence even after making insurance arrangements for Cargo safety and security.
Jido is the right solution for you, where you are aware about minute-to-minute location of your cargo, your freight, your container in transit. Any deviation in the route is immediately reported to you for taking corrective actions. Any unscheduled stoppage, any stop beyond the schedule or any deviation from the schedule throws out an alert to your command and controls center.
The Jido E-Lock can be easily attached to the cargo, container or the freight in transit. Only authorized agents can unlock the Jido, even remotely, and only at the location geo-fenced by the transport manager.The geo-fence makes a virtual fence around the load and Jido will monitor the complete route till delivery. Any deviation like tampering, opening of the lock at a location other than the geo-fenced destination, any attempt to break it means there is an alarm at your command and control center, including your Mobile App, so that you can take an immediate corrective action.
Jido has dual-SIM connectivity for uninterrupted location tracking, large battery to last the whole month, and high precision GPS for exact location tracking. Unique electronic locking and unlocking using Mobile App, SMS or Bluetooth only by the authorized person protects your cargo in transit, from end-to-end throughout the journey of the freight or the container.
Weather-proof, Dustproof & Shockproof
Fast and Easy Installation
Multiple Sensors Integration
Long Operation Time with Data Backup
Smooth Tracking of Device