Sensors

Positioning

IoT Cloud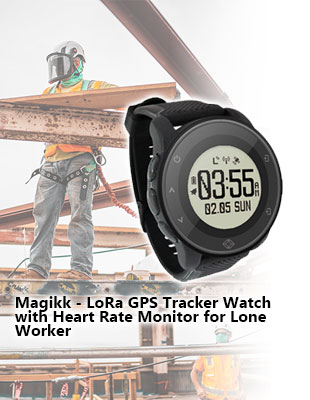 GPS Tracker Watch with Heart Rate Monitor for Lone Worker
Tracking your daily activity
Step/Calories/Distance monitor
Heart rate information
Skin temperature
Monitoring with Alert Features
Outdoor geo-fence
SOS for cloud platform management
Using Application
Health Care
Team Management
Group Tracking
Tracking your daily activity
Monitoring with alert features
Watch, Alarm with vibrator and buzzer
Magikk compatible with Helium Network
This is a wearable with BLE/ GPS/ LoRa® functions.
Small groups can keep contact with each other easier in a wide range of active areas based on GPS satellite positioning and LoRa's long-distance transmission technology (Up to 10+ KM) to integrate the mobile app and cloud application.
Built-in optical heart rate monitor module. Easy to show your heart rate status when you want to know It uses motion filter to remove motion signal from PPG. Heart rate is easily to figure out in filtered PPG.
Features
Accuracy (Based on HRM Module)
± 3 bpm in rest
± 10 bpm in motion (< 10 KM/hr)
Support BLE function
Link distance: 10M
LoRa transmit distance: 1-3 KM
Open Space: 3 KM
City: 1 KM